At Clear Sky Meditation Center, BC, 2018
Do you love learning and growing? Would you like to live in a community based on the values of awakening and compassion? Would you like to connect with yourself, others and the natural world more deeply?
If so, we invite you to apply for a karma yoga position at Clear Sky Meditation Centre.
Farm and Food Forest Caretaker Karma Yoga Position
If you have a particular interest in farming and food forests, we invite you to apply for our 2018 Food Forest Caretaker karma yoga position. Clear Sky is proudly home to one of Canada's largest cold climate food forests. Designed in 2012 and planted in 2013, the food forest is a one acre demonstration model of sustainable agro-forestry. For anyone wishing to grow their own Food Forest or start their own artisanal, perennial based organic farm, this position will provide invaluable 'hands on' experience.
Ideally, you would have some experience with farming, gardening, permaculture and food forests. Caring for the food forest requires use of a tractor, weed whacker and other tools. The daily karma yoga for this position includes tasks such as weedwhacking & grass management, irrigation management, plant care, fruit harvesting, herb picking & drying, and coordination of produce sales with the Farm Enterprise Manager. Your days would be balanced with general Clear Sky karma yoga in the kitchen or elsewhere on property
Watch a video of our food forest in it's third year of life:
Length of Stay
The 2018 Farm and Food Forest caretaker position is year round, with a preferred 6 to 12 month commitment. Applications are accepted for both the regular growing season (May through October), and an off-season stay (November through March) which includes planning, product development and research, etc. Shorter stays may be available.
Energy Exchange
Clear Sky's Karma Yoga program has been designed to provide priceless value in terms of self-knowledge, spiritual progress, life skills and professional development. Successful applicants who qualify for more than a three-month stay will receive healthful meals, beautiful accommodation and education valued at $2,000 per month, and invaluable spiritual training.
The minimum length of stay for a Clear Sky Karma yoga program is 3 months, with a one month trial period
Why Live and practice Karma Yoga at Clear Sky Meditation Centre?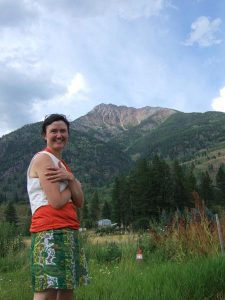 Clear Sky is a retreat centre in the Rocky Mountains of Eastern BC. For over 11 years have provided a focused sanctuary for personal growth and unfoldment. We call our centre a '310 acre meditation cushion', and also use the land as wisely as we can through sustainable agriculture and native plant restoration.
The spiritual work we do at Clear Sky is two fold – 1) we practice meditation and selfless service (karma yoga) to gain self awareness & insight, and 2) we participate in wisdom teachings from resident and guest teachers to cultivate inspiration & understanding.
Karma yoga or selfless service is an important part of what we do, because it builds skills, helps us learn to walk our spiritual talk and put ourselves into meaningful engagement with other people. Meditating on your own and attending to spiritual classes might be rewarding on their own, but we believe that karma yoga is a training ground for us to really practice awareness, compassion and wisdom in the world.
Join our Karma Yoga Program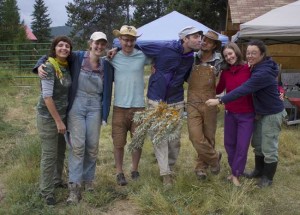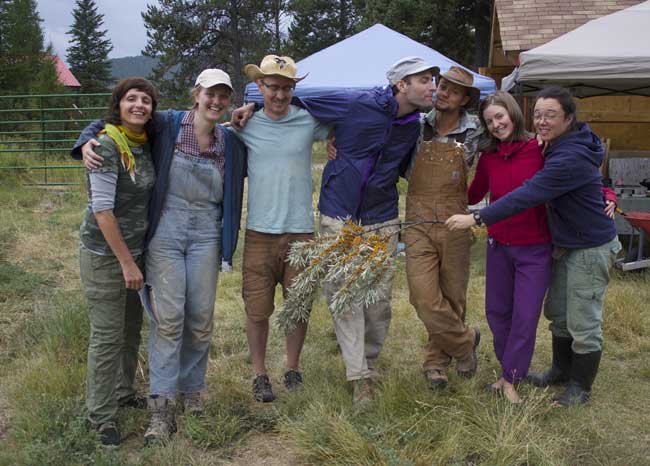 We offer our karma yoga program to courageous individuals who want to fully immerse themselves in a community founded on principles of compassion and self development. The program is intense, challenging and therefore also hugely rewarding. With daily meditation practice, a full schedule of karma yoga, classes and community meetings, together we meet our walls, see our patterns and grow together.
How to Apply
We invite eligible candidates to join us for a six to twelve month commitment with a one-month trial period. Please contact us with an expression of interest via Clear Sky's karma yoga application form.
Please help spread the word about these opportunities with anyone who might like to learn valuable life skills while living in a spiritual community.
Don't forget to like and visit our Clear Sky Farm Facebook page.