Clear Sky Centre is pleased to announce the East Kootenay's first demonstration food forest project. This one acre demonstration food forest model includes a wide variety of nut trees, fruit trees, medicinals, berries, vines, shrubs, timber, mulch & shelter trees, all grown together in a holistic ecosystem based design. Design and installation took place over 2012 and 2013 and the young food forest is doing well. This project received support through British Columbia Agroforestry Industry Development Initiative and aims to demonstrate a sustainable, permaculture based agroforestry system for food production in cold climates.  See our blog page for latest food forest updates and photos.
Videos about our Food Forest
(Newest videos listed first)



Clear Sky Center's many dedicated volunteer members including Catherine Pawasarat, Michelle Heinz, Karen McAllister, Jane Casey, Linda Hochstetler, Cara Conroy-Low, Todd Stewart and many more are involved with the Food Forest project, together with Richard Walker, one of Canada's most experienced Forest Gardeners and Leslie Lowe of Beargrass Landscape Architecture.
Food Forest Courses and Training
One goal of this Food Forest demonstration project is to facilitate food forest research, education and training. We invite you to attend our very popular annual Food Forest workshops and courses with Richard Walker, the lead consultant on the one acre project. Furthermore we welcome the public to join us for our Centre's Open Days and meditation retreats. For those interested in experiencing day-to-day life at a busy meditation centre, we have food forest specific positions available, offering an opportunity to combine meditative and spiritual practice as well as practical experience in earth and people care.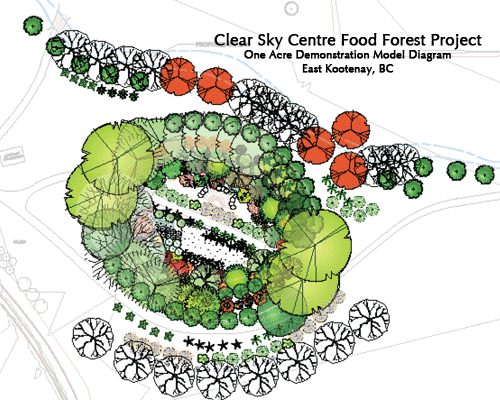 Sponsors and Support
The development of this food forest at Clear Sky has been made possible by generous donations over the years from friends of Clear Sky and members. We'd like to extend a special thanks to Dharma Teachers Doug Duncan and Catherine Pawasarat (Planetdharma.com).  Thank you also to: Clear Sky Meditation and Study Foundation Directors, Michelle Heinz,  Members and Volunteers. Richard Walker and Leslie Lowe. Kootenay Local Agriculture Society, BC (KLAS). Columbia Basin Environmental Educators Network BC (CBEEN). Friends of the Community Greenhouse Society, Creston, BC. Organic Farming Institute of BC (OFIBC).For this one acre project, the BC Agroforestry Industry Development Initiative has contributed significant grant funding. Funding for the British Columbia Agroforestry Industry Development Initiative (AIDI) has been provided by Agriculture and Agri-Food Canada through the Canadian Agricultural Adaptation Program (CAAP). In British Columbia, this program is delivered by the Investment Agriculture Foundation of BC. The Province of British Columbia provides in-kind support to the AIDI. The AIDI is administered by the Federation of BC Woodlot Associations with the guidance of the Agroforestry Management Committee.
Find out about opportunities to support sustainable agriculture in Canada: New Sponsors
Food Forest Project Links: Clear Sky Centre, KLAS, OFIBC, Creston Greenhouse, COTR Herbal Program, AIDI, Beargrass Landscape Architecture
About Clear Sky
Clear Sky is a retreat centre in South Eastern BC. One of Clear Sky's many project's is Clear Sky Farm, dedicated to innovative sustainable agriculture and permaculture design.  To find out more about Clear Sky Meditation Centre, visit www.clearskycenter.org.
Agriculture and Agri-Food Canada (AAFC) is committed to working with industry partners. Opinions expressed on this website are those of the authors and not necessarily those of AAFC.