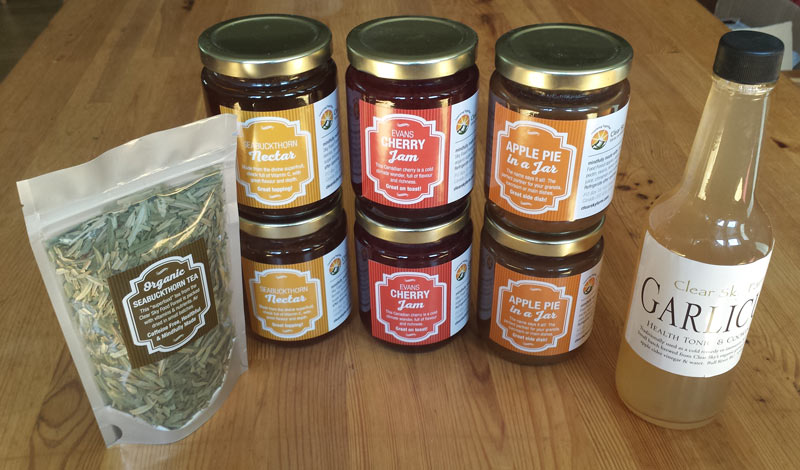 All our products are made from berries or fruit from our food forest.  Call Clear Sky if you would like to place an order, available from the Clear Sky gift store:  250-429-3929.
Here is what we currently have for sale via the Clear Sky Shop:
Seabuckthorn Nectar:  ($9.95) . Made from the divine superfruit, chock full of Vitamin C, with great flavour and depth.  Ingredients:  Clear Sky food forest seabuckthorn berries, lemon juice, organic sugar and pectin.
Evans Cherry Jam: ($8.95) This Canadian cherry is a cold climate wonder, full of flavour and richness. Ingredients: Clear Sky food forest Evans Cherries, organic sugar, butter and pectin.
Apple Pie in a Jar: ($8.95)  The name says it all!  The perfect partner for your granola, icecream or main dishes.  Ingredients: Clear Sky food forest apples, organic sugar, pectin, raisins, lemon zest, apple juice, cinnamon and nutmeg.
Garlicure – Health tonic & Cooking elixir ($11.95) Traditionally used as a cold remedy or immunity booster, great on salads.  Ingredients: small batch brewed from Clear Sky's organically grown heritage garlic, local honey, local natural apple cider vinegar and water.
Also available by order: Seabuckthorn Tea and Seabuckthorn Berries.
What others have said about our products:
Garlicure
Hello Clear Sky Staff
Just to let you know that we all love your Garlicure. It is simply amazing! I've had a tickle in my throat for months and after taking an ounce a day for a few days, it completely went away. I now take it everyday and feel great.  My whole family tried the Garlicure and we all enjoy it in salad dressing. It is a new product so we are experiencing with it, as there's probably a lot more we could do with it.
Thank you for making such a powerful healthy tasty tonic.
Sincerely,
JP Charbonneau, BC, Canada, 2012
I'm a garlic lover of the subtle kind.  I don't want to be overpowered by its flavor but I love how its unique flavor adds to the taste of other foods.  Garlicure does just that, gives you a garlic flavor without overpowering other food flavors.  Wonderful additive for everything from salad dressings to sauces.  You can sprinkle it on whatever you're eating to give you a slight and delicious garlic taste while still enjoying the flavors of the other foods.  Great addition to my kitchen and condiment tray.
Ed Reither – Fairfax, CA, USA, 2012
To find out more about Clear Sky Meditation Centre, visit www.clearskycenter.org.