Food Forestry North of the 49th with Richard Walker
June 18 – 19, 2016
Come have fun and develop hands-on experience with one of Canada's most experienced forest gardeners in our one-acre cold climate food forest, just 35 minutes from Cranbrook, and 50 minutes from Fernie, BC.
Learning Outcomes
5 things you'll take away with you from this workshop:
1) how to properly plant trees
2) how to select quality botanicals
3) pruning fundamentals
4) the key points of building soil
5) a copy of "Food Forestry North of the 49th" by Richard Walker
Workshop Schedule
DAY ONE
9 am
10.30 am BREAK
11.00  am
Mitigating and repairing site contamination
Site improvement and design
12.30 LUNCH
1 p.m
Brix testing ( hands on )
Site visit ( species selection and design)
3.30 pm  BREAK
4 p.m
Species selection
Conclusion
5 pm
DAY TWO
9 am
Importance of high-quality soil
Soil building
10.30 am BREAK
11. 00 am
12.30 pm  LUNCH
1.30 pm
Compost and compost teas
Bokashi and essential micro-organisms
3.30 pm
4.00 pm
Testimonials from Richard's past students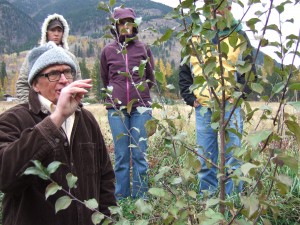 "Effective, approachable, engaging, insanely knowledgeable."
Clear Sky 2011 Food Forest Workshop participant
"Everything talked about was pertinent to our interests and what we are doing in our own backyard."
Pat and Graham Greenlee, Clear Sky 2013 Food Forest participants
"Richard showed me that growing a food forest can be fun, practical, and even a good idea economically. I'd been intrigued by food forestry for a few years but to listen to Richard speak and share his wealth of experience really helped me to see that this is something I can do and have a lot of fun with. I left with so much information about food plants and had fun trying my hand at grafting. I was so inspired by Richard, his information, and his photos that I'm itching to get my own food forest started! I would recommend this workshop to anyone interested in growing their own food or starting a nursery."
Elysse Lightpool – Herbal Medicine Practioner and Student
"Unparalleled experience in food forestry with knowledge and techniques that you aren't going to find in any book. Quirky, funny, passionate, patient. Great person to learn from. I like that he doesn't have much structure. I want to now spend a year with him."
Mike Cloutier – OUR Ecovillage Garden Manager
Richard Walker
Richard is a food forester, designer, herbalist and teacher with over 30 years experience. He has designed community and private forest gardens throughout BC. He spent his early years as an organic farmer in Alberta. He later moved to Grand Forks BC where over 20 years he transformed his 3 acre property from a bare horse pasture into a lush self-sustaining forest garden with over 400 nut trees and seven storeys of food and medicine bearing perennial plants and vines. Having converted a degraded piece of land into an abundant mix of rare, unique nut, fruit and medicinal plants from all over the world, he is one of Canada's most experienced food foresters. Richard shares his studied and practical experience in a respectful and approachable manner to inspire grower enthusiasts and save many from years of trial and error. He also has a great depth of herbal medicine knowledge and has developed herbal medicinal tinctures and teas for over 25 years. He shares his knowledge of plant biology to promote healthy living through the philosophy of food and herbs as medicine. What really adds to Richard's credibility is that he lives as he teaches. He lives simply, creatively using his skills to bring food from the soil to the table, and in doing so teaches us how food and plants create a culture of true sustainability. In his own words "gardening for a 1000 years". He loves to share this vision as a model for communities and individuals who are inspired to grow themselves in environmentally friendly, self-sustaining ways. His first book, "Food Forestry North of the 49th –  Vol 1: Fundamentals", will be published in July, 2015.
Bursary
 If you are based in the Columbia Valley, you may be eligible for a professional development bursary to attend. Please check
here
for more details.
Ready To Register?
This inspiring weekend food forest program includes small group learning in the classroom and in the field with Richard Walker.  You will also receive delicious lunches, snacks and a copy of Richard Walker's book "Food Forestry North of the 49th".    Total Workshop Fees: CAD $315.00
Overnight stays are also possible, please inquire for details