Seabuckthorn Tea : Order Now for 2016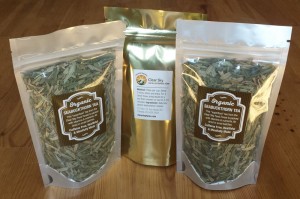 Seabuckthorn tea is caffeine-free, healthful, full-bodied and nourishing. Seabuckthorn tea is rich in proteins, vitamins and minerals and has traditionally been used for improving the digestive system & skin. The leaves from our Clear Sky naturally grown (beyond organic standards) seabuckthorn trees are hand picked every June. You can order Seabuckthorn tea leaves for 2016 now. We sell loose leaf seabuckthorn tea for $5 per 22.5g bag.
To make an order, and for large order inquiries, please send us a message via the form below.
To find out more about Clear Sky Meditation Centre, visit www.clearskycenter.org.