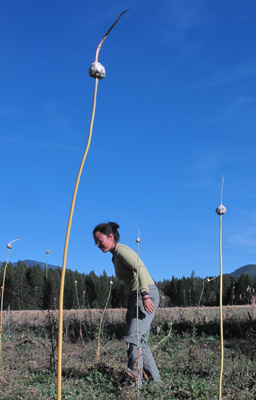 Our Garlic Scapes are currently maturing their Bulbils and are ready for order! This year we left a lot of our heritage garlic bulbs in the ground, intact with their scapes. They have now just about completed their growth into seed bulbils. Bulbils are delicious. One customer at the farmers market told me he loves stir frying them! They are like tiny garlic bulbs and are genetic clones of their parent (so aren't like a true seed born from a flower).
If you are contemplating whether to grow from cloves or from bulbils: Bulbils take longer to grow. It takes several years to grow full sized bulbs and you need to harvest and replant each year of the propagation process. Growing directly from garlic cloves take only one year on the other hand.
However, the benefits of bulbils are that there are tonnes of them on each garlic plant – thus you can increase your garlic stock with less expense. Secondly, the bulbils never touch the ground, so there is less chance of spreading soil-borne disease, which some growers are prone to.
We look forward to harvesting our bulbils later this week – they make for a great seed bank / genetic stock reserve, should anything go wrong with our garlic bulb stock.